Superfoods
First-class product quality
At the turn of the twenty-first century, the "superfood" label took off in US and European retail markets. Once unfamiliar foods like quinoa, turmeric, Goji Berry and Amaranth suddenly burst onto supermarket shelves and restaurant menus. Even familiar products like cranberries, almonds, and ginger were reimagined as superfoods, suggesting that they have exceptional nutritional powers and curative properties.


You probably already know that what you eat affects the state of your health. And with the fast-paced lives we all lead today, it is hard to ensure the intake of the recommended doze of vitamins and minerals. Luckily, there are superfoods that can help you reduce the risk of chronic disease and prolong your life.
Simply said, superfoods are raw, densely nutritious food that is easily digested by the body. They are typically loaded with phytonutrients which enhance the mental performance, control the blood sugar levels, physical stamina and boost energy. In addition, many of these superfoods are specially high in protein and omega 3, great anti-inflammatory fats. Superfoods are considered as the nature's medicine and are known for preventing heart disease, lowering cholesterol and protecting the body from many different types of cancers thanks to their antioxidant properties.

Superfoods are foods that have a very high nutritional density. This means that they provide a substantial amount of nutrients and very few calories. They contain a high volume of minerals, vitamins, and antioxidants. Antioxidants are natural molecules that occur in certain foods. They help neutralize free radicals in our bodies. Free radicals are natural byproducts of energy production that can wreak havoc on the body.
We offer best quality seeds and spices from around the globe
Chia Seeds
Goji Berry
Amaranth
Quinoa
Hemp seeds, hulled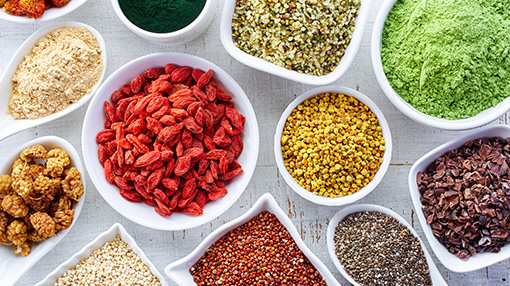 Do you have any questions, suggestions or would you like to make an enquiry? We will be happy to help you.
The most popular products